If anyone is interested in some springtime #charmer activities to get you out of the house: Morgantown's own ridiculously awesome industrial band, Descension Rate, is playing 123 next Friday (4/22). This happens to be Doug Lilly's (DR's bassist, and your favorite U92 DJ) birthday. So, uh, I plan on going and hanging out at this one club that doesn't suck ass. And The Doug is having a birthday! You know you want to come out and play.
And if that wasn't enough to tempt your musical tastebuds: My favorite spooky Gothy trip-poppy dance band, Hungry Lucy, will be playing in Pittsburgh next Sunday (4/24). Anyone that got a copy of my Winter Mix cd has heard this band (check out track 8, "Telltale Shot"). If you didn't get a copy of my Winter Mix, you can check out the small sampling I have provided myah and myah. (click right, save as)
Here's a pretty little invite they kindly sent me via e-mail.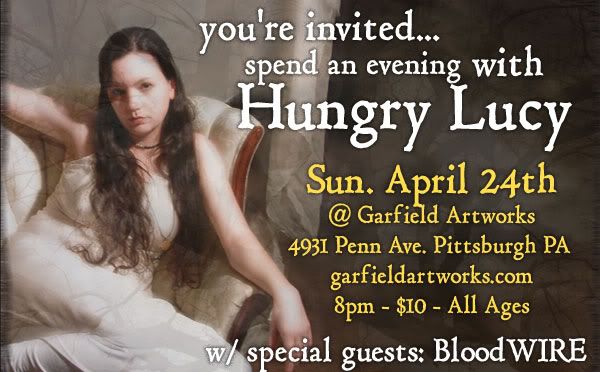 Hooray!